Hey guys and welcome to my version of the F.R.I.E.N.D.S. book tag! This tag was originally created by An Average Life blog and I was very excited when I found it and had to take part straight away…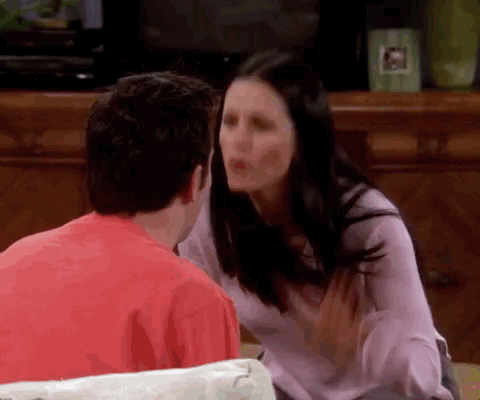 MONICA… A book based on a game or competition. Erm, this is really hard, does The Hunger Games count?!
Organisation QUEEN! How do you organise your books? This actually varies on a monthly basis, so at the moment they're organised by what I need to read, a lot of books at the moment are on my Kindle so I have a shelf dedicated purely to physical books I have to read.
RACHEL – A book you read for the hype. Most of them? I think the main one that I read to see what the hype was about was Fifty Shades of Grey – safe to say I did not get the hype AT ALL.
SHOPPING ADDICT – What makes you buy a book? The author, the cover, the title, if someone has recommended it, it smells nice? The list goes on…
PHOEBE – A book with a spiritual or supernatural theme. I read quite a lot of books themed this way, so a recent one that I read and reviewed was Talk To Me or The Woman in Black.
THE BOYCOTT – Are there any authors, booksellers or publishers you refuse to support? I really should be more up to date with things like this and make an effort to avoid people whose morals I don't agree with but at the moment, no.
ROSS – A science fiction book. I'm not really sci-fi fan 😦
ON A BREAK – Which book have you put down to pick up later? IT by Stephen King, a lot LOT later…
CHANDLER – A book that made you laugh out loud. I laugh at various parts of books, but I think the last one I had a good chuckle at would be One Week Till Christmas.
THAT TIME AT SPACE MOUNTAIN – Are there any books you're embarrassed to admit you read? Not really, I'm quite open about what I've read!
JOEY – A scary book you would keep in the freezer. The Shining, it shouldn't be scary, but something about it just really creeps me out.
V IS FOR ENCYCLOPEDIA – As an adult have you read any books with words you had to look up to understand? Not words as such, but literally every single Dan Brown book I'm looking up some symbol or theory to read more about it!
OKAY, I'm undecided if I had more fun searching out the gifs for this post or actually answering the tag… Definitely searching the gifs. Friends is literally one of my favourite TV shows, ever, so when I saw this tag I was determined to get it written up on my blog!
Em xxx